IEEE VIP Cup 2017: Traffic Sign Detection Under Challenging Conditions
Final Results
The first edition of the IEEE Video and Image Processing Cup 2017 Global Competition held its final competition on 17 September 2017 in Beijing, China, during the IEEE International Conference on Image Processing (ICIP). The Winners of VIP Cup 2017 are:
Winning team: Neurons
Students: Uday Kamal, Sowmitra Das, Abid Abrar
Institution: Bangladesh University of Engineering and Technology
Supervisor: Md. Kamrul Hasan
First Runner-Up Team: PolyUTS
Students: Weixi Feng, Aung Min, Jiawei Zhang, Chenhang He, Hardy Zhu, Wenqi Jia
Institution: University of Technology Sydney, Hong Kong Polytechnic University, University of New South Wales
Supervisor: Xiangjian He
Second Runner-Up Team: Markovians
Students: Sayeed Shafayet Chowdhury, Ahmed Maksud, Jubaer Hossain, Kinjol Barua, Roknuzzaman Rokon, Muhammad Suhail Najeeb, Nahian Ibn Hasan, Shahruk Hossain, Shakib Zaman, SM Raiyan Chowdhury
Institution: Bangladesh University of Engineering and Technology
Supervisor: Mohammad Ariful Haque
The IEEE Signal Processing Society announces the first edition of the Signal Processing Society Video and Image Processing (VIP) Cup: traffic sign detection under challenging conditions. Visit the 2017 VIP Cup Website(link is external). (https://ghassanalregib.com/vip-cup/)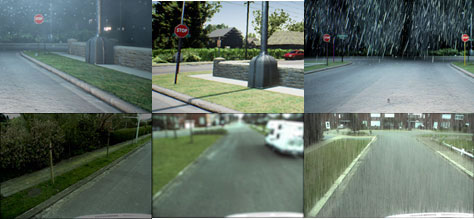 Robust and reliable traffic sign detection is necessary to bring autonomous vehicles onto our roads. State of the art traffic sign detection algorithms in the literature successfully perform the task over existing databases that mostly lack realistic road conditions. This competition focuses on detecting such traffic signs under challenging conditions.
To facilitate such task and competition, we introduce a novel video dataset that contains a variety of road conditions. In such video sequences, we vary the type and the level of the challenging conditions including a range of lighting conditions, blur, haze, rain and snow levels. The goal of this challenge is to implement traffic sign detection algorithms that can robustly perform under such challenging environmental conditions.
Any eligible team can participate in the competition, whose detailed guidelines and dataset are planned to be released on March 15, 2017 and participating teams should complete their submission by July 1, 2017. The three best teams are selected and announced by August 1, 2017. Three finalist teams will be judged at ICIP 2017, which will be held September 17-20, 2017. In addition to algorithmic performances, demonstration and presentation performances will also affect the final ranking.
Important Dates:
1 August 2017: Announcement of the final three teams
17 September 2017: Final competition at ICIP 2017
Team Prizes

The champion: $5,000
The first runnerup: $2,500
The second runnerup: $1,500
Each finalist team invited to ICIP 2017 will receive travel supported by the SPS on a reimbursement basis. A team member is offered up to $1,200 for continental travel, or $1,700 for intercontinental travel. A maximum of three members per team will be eligible for travel support.
Video and Image Processing Cup 2017 Final competition announcement
The IEEE Video and Image Processing Cup 2017 final competition will take place
Date: Sunday, Sept. 17, 2017
Time: 15:00-17:00
Location: Room 209AB, 2F, China National Convention Center
in Beijing, China, during the IEEE International Conference on Image Processing, (ICIP). according to the following agenda
15:00 - 15:10 Jury to meet teams
15:10 - 15:20 Introduction to VIP Cup by Organisers
15:20 - 15:40 Team 1 Presentation (15 min), Q&A (5 min),
15:40 - 16:00 Team 2 Presentation (15 min), Q&A (5 min),
16:00 - 16:20 Team 3 Presentation (15 min), Q&A (5 min),
16:20 - 16:50 Jury discussion
16:50 Winners announced
Finalist Teams
Team Name: Markovians
Bangladesh University of Engineering and Technology
Supervisor: Mohammad Ariful Haque
Students: Sayeed Shafayet Chowdhury, Ahmed Maksud, Jubaer Hossain, Kinjol Barua, Roknuzzaman Rokon, Muhammad Suhail Najeeb, Nahian Ibn Hasan, Shahruk Hossain, Shakib Zaman, SM Raiyan Chowdhury
Team Name: Neurons
Bangladesh University of Engineering and Technology
Supervisor: Md. Kamrul Hasan
Students: Uday Kamal, Sowmitra Das, Abid Abrar
Team Name: PolyUTS
University of Technology Sydney,
Hong Kong Polytechnic University,
University of New South Wales
Supervisor: Xiangjian He
Students: Weixi Feng, Aung Min, Jiawei Zhang, Chenhang He, Hardy Zhu, Wenqi Jia